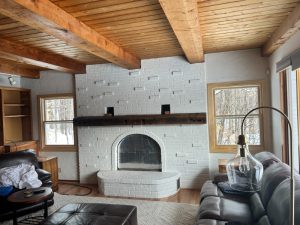 This house painting job took us to Guilford, VT to help new Vermonters give their home a freshly-painted look.
This couple had moved to Vermont six months ago from NYC and had done a commendable job with some work they did themselves on their new home. After chatting for a while, we learned they were also expecting their first child.
We were pretty thrilled to be a part of making this house a home for them.
The Project
Upon arriving we walked into a beautiful open kitchen and dining room. Our first observations were the number of knots and water damage on their floor-to-ceiling rough-cut walls. From the moment we entered we knew we had our work cut out for us.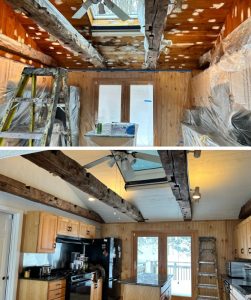 We were shown two more bathrooms with the same floor-to-ceiling rough-cut walls, knots and water damage in each room. Although we knew this was going to be a lot of work, we also knew how much more open and clean the rooms would look when finished.
There were a few odds and ends they wanted help with: a huge fireplace, a window in the master bedroom, and some new windows in need of some finish work.
We were then brought into the "very 80's" wallpapered rooms. In one of these rooms the homeowners had already removed the wallpaper, so we just needed to get the glue off, skim coat the walls, and do some wall repair.
The other two bedrooms were still wallpapered.  One had the ceiling wallpapered, too – four different type of wallpaper in one room!
They just wanted the house to be freshly-painted, and feel more like their own and less like a slightly-outdated cabin.
The Work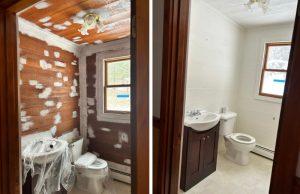 Wallpaper removal is tough work, but we secretly love it because it's so satisfying when you get big sheets to pull off the walls. We will admit, though, it's frustrating when you can't get a full sheet, and it pulls off as little slivers at a time. Luckily, full sheets came off for most of this project.
We started to oil prime the wood ceilings and walls, but noticed some tannins bleeding through.  We switched to BIN primer. Tannins still bled through, so we decided the best action plan was to do both types of primer. We also primed the wallpaper rooms – both the walls and the wood trim –  in order to give us a nice fresh base.
The wall repairs were next. There was a lot of wall skimming, and quite a few dings and scratches, but even prior to sanding we could see the beginnings of  new, beautiful fresh walls.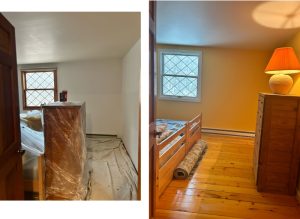 Once we were ready for finish paint, we applied Benjamin Moore "White Dove" in the bathrooms and the kitchen area. These old wood rooms immediately came alive. They were much brighter than before, and a warm feeling emerged.
The smaller of the upstairs bedrooms was painted with "White Dove" trim and "Sunny Days" was chosen for the walls. This room, we later learned, will become the new baby's nursery. It was a great color choice! The other two bedrooms were painted an "Antique White" with "White Dove" trim.
The Results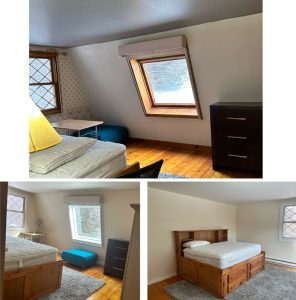 The young couple was thrilled with the freshly-painted, finished appearance of every room.  Helping to transform their house and getting to see the homeowners' reaction was wonderful for us as a team.
We wish them lots of luck with their soon-to-come new addition to the family, and welcome them to Vermont!
….
Do you have a home painting or finishing project that you'd like help with completing?
Contact us today to discuss all that we can do for you.