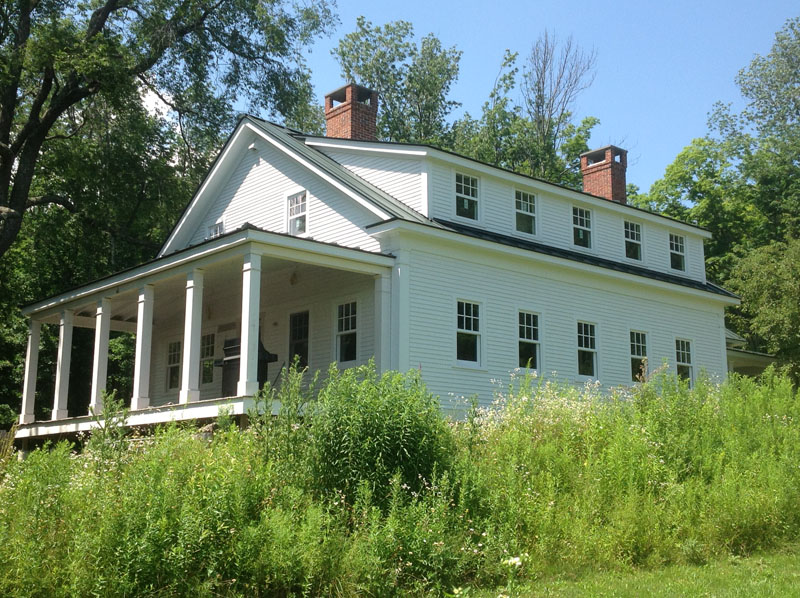 Looking for a Southern Vermont house painter? Then you've come to the right place.   A fresh coat of paint can do wonders for the look of a room or a building.  A good paint job can both improve the appearance of your house and protect it from the elements.
Painting your house in a timely fashion can ultimately save you in maintenance costs — from rotted wood to deterioration. It pays to paint!
Whether your reasons for having your house painted are aesthetic or practical, Eddie Charbonneau Painting is the right choice.
Professional House Painters
We paint houses, businesses, apartments, condominiums, historic buildings, decks and more.
We can handle painting projects of all sizes — from detail work in a single room to an entire building.
We work quickly and professionally within your schedule and are meticulous in clean-up.
We are happy to help you with your color choices.
Exterior Painting
Before we paint, stain or seal the exterior of your house or deck, we power wash the mildew and dirt from the surface.
We are familiar with the application of a variety of paints, stains and wood sealers, and we will help you make the right decision about what to use on your house.
Before we paint the exterior of your house, we make all of the necessary carpentry repairs first so that your house is taken care of and our paint job lasts.
Interior Painting
Before we paint the interior of your home, we first will caulk, skim and patch the walls, ceilings and trim so that the surface is smooth.
We remove wallpaper.
We are comfortable using a variety of stains, paints, urethanes, varnishes and other finishes.
We do faux finishes and Venetian plaster.
We are capable of doing tile and carpentry work.
Check out photos of our work for more.
Painting Southern Vermont
Here is a partial list of the southern Vermont towns we have worked in:
Contact us today to get started on your painting project.