This southern Vermont house painting call took us to a second home/ski home in South Londonderry, VT.
When we arrived at the ski home, Eddie walked through with us and discussed what needed to be done. It's a cute ski home with lots of Eddie Charbonneau history. Our crew recalled bringing some paint out to one of the other crews as we were doing the exterior two years ago.
In the basement we noticed some items have fallen off a windowsill. Then we see glass. Some ice had fallen off the roof and had shattered the basement window.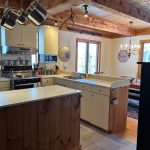 We immediately shift from house painters to window repair people. Eddie climbed through the snow bank outside to secure some heavy plastic on the outside of the window. We did the same inside. Within a couple of days a new piece of glass was being placed. We secured the outside with some additional plywood…. just in case.
The interior was a pretty straightforward color change, with rather extensive corner repairs. Fifty percent of the corners in the home were cracked open – some large enough to fit fingers through.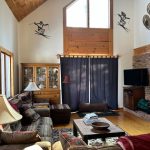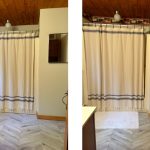 A couple of our guys started the wall repairs. One began wallpaper border removal and another got to work matching some minwax stains for some new baseboards and trim. At the end of day 1, we were well underway with our repairs and prep work.
The homeowner decided to go with White Dove walls, Edgecomb Grey & Classic Grey bathrooms. The stain we found was a close match – Ipswich Pine.
After a couple of days we were well-underway with this house painting transformation. We dusted and polished the higher wall decor for when we replaced it. We had to use a 16' extension ladder to reach the items not easily accessed for cleaning.
As we were finishing up the new paint, Eddie thought it would look great if we oiled the window jams. We grabbed some teak oil and got to work bringing some of the faded wood back to life.
The ski home has a beautiful, new interior look for some comfy-cozy 2023 mountain time.