The house painting crew took off to our new job in Stratton View to paint ceilings, walls, doors, and trim.
As we pull up to this Vermont house, we see the wonderful view of Stratton mountain and it becomes obvious where the name of their development came from.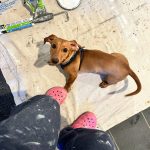 We were greeted at the door by the homeowners and their pups: Herman, Nathan, and Charlie. They tell us Nathan and Charlie are seniors and Herman is their newest addition. Boy are they the cutest! Herman is included in the photos. He wanted to help us paint the house so badly!
The homeowners wanted a fresh paint job with white ceilings, fresh trim & doors and some bathroom formulated paint.
We got right to work doing some pretty heavy duty wall patching on the second floor, and some minor wall repairs on the first floor. The wall prep was completed quickly and we had a beautiful blank slate to start with when painting.
The homeowners decided to go with Benjamin Moore 'Regal Select Flat' on the ceilings, 'White Dove Matte' on the walls, and 'White Dove Satin' on the trim.
For the bathrooms we decided that 'Aura Bath & Spa' by Benjamin Moore would be the ideal product to use. The homeowners decided on 'Stonington Gray'.
In the foyer there is a rustic bench and we could tell there was a story behind it. The homeowners explained the wood was originally part of the house and they had the boards made into the bench. It was a beautifully aged Barn Red.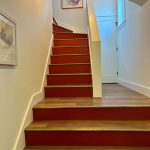 They wanted to compliment the bench with some red risers and chose Benjamin Moores 'Caliente'. They made an awesome selection, it added so much to the entry way.
The family liked it so much, in fact, they decided to accent their pantry with a "Caliente" wall to highlight the brick wall in the kitchen.
This was a fun project for a wonderful family.
One of our favorite parts, of course, was being greeted by Herman each morning.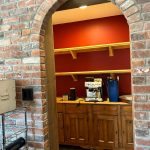 We are off to the next house painting project!